HP Laptop Display Screen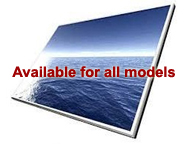 HP Laptop LCD/LED screen broken? One or more horizontal and vertical wide lines are in the laptop screen? Any black round spot or completely black & white display appearance? Flickering display? You may need to replace the display screen or the display unit. Searching genuine HP LCD/LED screen in Assam? HP Laptop screen for HP Laptop is available in best price. You can order HP compatible screen from Assam like any other city in India.
This is the only .com in India having complete solution for the Laptop Accessories. Mandira Tech is the only company with online purchasing facility of all laptop products. Anywhere from India can easily shop laptop accessories just sitting online from home.
Shopping laptop charger, keyboard, battery, LCD/LED screen, motherboard, hard disk, hinges, casing, heat sink, optical DVD drive, video/VGA cable etc. is made very easy by M/s Mandira Tech. Safe and multimode online payment systems provided by the State Bank of India. On time delivery with 30 Day Money Back Guarantee.
Note: All Enquiry, sharing media and exchanging messages on WhatsApp would remain 24 hrs. Please read Terms & Conditions carefully.
---
HP Laptop Models:
HP Pavilion dv6000
HP Pavilion dm1
HP Pavilion dv2
HP Pavilion dv3
HP Pavilion dv4
HP Pavilion dv5
HP Pavilion dv6
HP Pavilion dv7
HP Pavilion dv8
HP Pavilion dv1000
HP Pavilion dv2000
HP Pavilion dv4000
HP Pavilion dv5000
HP Pavilion dv6000
HP Pavilion dv 6767tx
HP Pavilion dv8000
HP Pavilion dv8000
HP Pavilion dv9000
HP Pavilion TX1000
HP Pavilion zd8000
HP Pavilion ze2000
HP Pavilion ze4100
HP Pavilion ze4145
HP Pavilion ze4430
HP Pavilion ze4900
HP Pavilion ze5600
HP Pavilion zv5000
HP Pavilion zv6000
HP Pavilion HDX
HP HDX 16
HP HDX 18
HP Envy dv6
HP Envy dv7
HP Envy m6
HP Envy m7
HP Envy 15
HP Envy 17
HP G61 Notebook
HP G5000 Notebook PC
HP G6000 Notebook PC
HP G7000 Notebook PC
HP G60 Notebook PC
HP G61 Notebook PC
HP G62 Notebook PC
HP G70 Notebook PC
HP G42-366TX Notebook PC
HP Pavilion g6
HP Pavilion g7
HP Mini 110
HP Mini 210
HP Mini 5101
HP Mini 2133
HP Mini 2140
HP Mini 3510
HP ProBook 4310s/CT
HP ProBook 4510s/CT
HP ProBook 4515s/CT
HP Probook 4221s/CT
HP ProBook 4520s/CT
HP ProBook 4530s/CT
HP ProBook 4540s/CT
HP ProBook 4710s/CT
HP ProBook 5310m/CT
HP ProBook 6460b
HP Elite Book
2740p: 12.1" Tablet PC
8440p: 14.0" mainstream
8440w: 14.0" mobile workstation
8540p: 15.6" mainstream
8540w: 15.6" mobile workstation
8740w: 17.0" mobile workstation
2760p: 12.1" Tablet PC
2530p: 12.1" ultraportable
2730p: 12.1" Tablet PC
6930p: 14.1" mainstream
8530p: 15.4" mainstream
8530w: 15.4" mobile workstation
8730w: 17.0" mobile workstation
2540p: 12.1" ultraportable
8460p: 14.0" mainstream
8460w: 14.0" mobile workstation
8560p: 15.6" mainstream
8560w: 15.6" mobile workstation
8760w: 17.3" mobile workstation
Revolve 810: 11.6" Tablet PC
2170p: 11.6" ultraportable
2570p: 12.5" ultraportable
HP Compaq 2533t Mobile Thin Client
HP 4410t Mobile Thin Client
HP Compaq 6720t Mobile Thin Client
8470p: 14.0" mainstream
8470w: 14.0" mobile workstation
9470m: 14.0" ultra book
8570p: 15.6" mainstream
8570w: 15.6" mobile workstation
8770w: 17.3" mobile workstation
Rugged Notebooks
nr3600
nr3610
tr3000
HP Omni book
Omni Book 300
Omni Book 425
Omni Book 525
Omni Book 600C
OmniBook 600CT
OmniBook 4000
OmniBook 800CS
OmniBook 2000
OmniBook 3000
OmniBook 5500
OmniBook 5700CT
OmniBook 2100
OmniBook XE
OmniBook 900
OmniBook 900B
OmniBook 4100
OmniBook 4150
OmniBook 4150B
OmniBook 7100
OmniBook 7150
OmniBook XE2
OmniBook XE3
OmniBook 6000
OmniBook 6100
OmniBook 500
OmniBook vt6200